Residency Resources
4 reasons a career in post-acute care can be the perfect fit
Flexible scheduling that prioritizes life-work balance and the opportunity to hone leadership and practice skills - what providers need to know.
---
As the U.S. population ages, the demand for post-acute care continues to grow – as does the need for post-acute care providers.
In fact, "an estimated 70 percent of Americans turning 65 years old will expect to need long-term care services at some point in their lives, many of them also requiring post-acute care. This makes the role of the [post-acute provider] crucial to improving and transforming patient care." (The Office of the National Coordinator for Health Information Technology)
This healthcare field is an essential aspect of a value-based care continuum - creating value for all parties by lowering medical costs and improving the health of older adults after hospitalization.
More post-acute care providers are necessary for the sustainability of this part of the care continuum.
For some healthcare providers, a career in post-acute care can be the perfect fit.
Current hospitalists may suffer from burnout due to demanding schedules or limited autonomy when negotiating life-work balance. They may even feel stuck in their healthcare career, uncertain which path would allow them more time with family while still finding fulfillment in their practice.
Post-acute care providers serve as care advocates and care team leaders for their patient population. The care they provide promotes the functional recovery of older adults while preventing unnecessary hospital readmissions or premature admission to a long-term care facility. (National Library of Medicine) In short, they help their patients get home faster.
Here are 4 reasons that a post-acute career might be the perfect career move:
1. Most post-acute care providers enjoy a more-flexible schedule that allows a better life-work balance.
Post-acute careers can be the answer for family-oriented healthcare professionals. Post-acute care providers may have a more-flexible and less-demanding schedule than some hospitalists, which means they can prioritize time with family while continuing to pursue a career in healthcare.
This kind of life-work balance appeals to younger and older generations alike. Whether it be more time with the kids, or more memories made with your grandchildren, all can benefit while finding professional fulfillment.
Most post-acute care providers can work with their facilities to determine a work schedule that works for them – something that is not as easily accessible in a hospital setting. If life-work balance is what you are searching for, post-acute care can offer great benefits.
2. Post-acute care providers form meaningful long-term relationships.
Post-acute care differs from the hustle of the hospital. Patients need a space to recover and improve their health before they move on to the next stage of their care journey. Because of this, post-acute providers can form impactful relationships with their patients and care teams.
Providers will find that they have a substantial amount of ownership in the care they provide for their patients. In this care setting, providers will find fulfillment in getting to know their patients and creating effective care plans to help them achieve their care goals and ultimately get them home as soon as possible.
Additionally, providers will find that they can forge lasting relationships with their post-acute care team, who are united in helping patients gain confidence and strength following a stay in the hospital. Often, providers will work with the same care team for multiple patients, allowing them to understand one another more deeply and build off the team's collective strengths to create the best outcomes for their patients.
3. For a business-minded individual, post-acute care provides growth opportunities.
Providers will find that a career in post-acute care means they have more ownership of the care plans they develop for their patients. In conjunction, providers can hone their skills in specialties that interest them – allowing them to gain experience in fields that resonate most with their career goals.
These providers also act as leaders of their patients' care teams, working to coordinate care plans, set goals, and advocate for their patients and team. Post-acute providers make an effective care continuum possible by ensuring effective outcomes at their facility while coordinating with the patient and their other providers to avoid readmissions or other acquired illnesses.
4. Post-acute providers are essential for proper care coordination – allowing savings for all parties and better patient outcomes.
For providers who wish to work with a specific population, especially older adults, post-acute care can be a rewarding way to impact the rest of a patient's life – for the better. Without effective post-acute care, older adults may be readmitted to the hospital for a potentially worsening condition, and their quality of life deteriorates with each acute episode.
As told by the National Library of Medicine, "research found that as many as 25%–35% of older adults lose at least one activity of daily living following 10–14 days of hospitalization for acute illness, 25% suffer cognitive functional decline after 10–14 days of hospitalization, and 20%–25% experience emotional disturbances after discharge (chiefly depression and anxiety)."
More readmissions mean more money spent by both the patient and the hospital for more aggressive care.
Post-acute providers can change the course of this readmission cycle by providing individualized care to help patients reach their health goals while educating families on their loved one's condition. Ultimately, this saves money for all parties and ensures that patients move along their care journey efficiently.
---
Want to see how you can streamline your patient care by harnessing healthcare technology? Read more.
Whether you are just starting your career or looking for a new direction, a career in post-acute care can be a rewarding and fulfilling choice.
Interested in a career in post-acute care?
Connect with HNI's recruitment team to hear about job opportunities across the country.
Want to take a look on your own? Check out our careers page.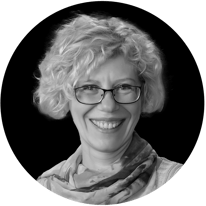 Natalia Rabkina, MD, MBA
Manager of Residency Relations
Transitional Care Recruitment Specialist