News
Michael Gonzales, CEO of HNI Healthcare, Named as Finalist for the Entrepreneur Of The Year® 2022 Central South
The award recognizes leaders who are creating long-term value through entrepreneurial spirit, purpose, growth, and impact.
---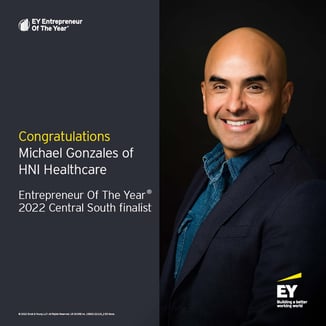 Entrepreneurs play a vital role in transforming our lives by disrupting entire industries and reinventing economies. We couldn't be happier for Michael Gonzales, CEO and founder of HNI Healthcare, to be recognized as a finalist for the Entrepreneur Of The Year® 2022 Central South program.
As the world's most prestigious business award from entrepreneurs, Entrepreneur Of The Year® has been at the forefront of identifying game-changing business leaders for more than 35 years. The program has horned the inspirational leadership of such entrepreneurs as Howard Schultz of Starbucks Corporation; Reid Hoffman and Jeff Weiner or LinkedIn Corporation; and Kendra Scott of Kendra Scott LLC.
We're honored to have Michael Gonzales recognized among so many other unstoppable business leaders in Central South.
When asked about HNI Healthcare's purpose, Michael Gonzales stated, "We are focused on decreasing the overall cost of healthcare in our country, while improving outcomes and overall well-being. Of the $4.1T of healthcare spend, the Centers for Medicare estimates that 25% is waste. This waste comes from: unneeded care, dislocation between providers and patients, patients being transitioned into care gaps, and adverse outcomes/complications at the point of care. Our value-based approach targets care gaps, ensures more accountable clinical oversight, and eliminates this waste – making healthcare more sustainable in the communities we serve."
When HNI Healthcare was founded in 2009, only 5% of reimbursement existed in value-based relationships with provider groups. Today, it stands at 36% and it is estimated to grow to 67% by 2026. The prompt commitment to value-based clinical and operating models made HNI a pioneer. Early on, this approach proved economically disadvantageous in the dominant fee-for-service environment. Today, HNI is considered a leader and doing well by doing good.
The Central South finalists will be recognized, and winners will be announced, at the Central South awards celebration on June 23. Regional award winners are eligible for the Entrepreneur Of The Year® National Awards, presented in November.
Learn more about the Entrepreneur Of The Year® Central South program, and follow us along our journey to the regional awards celebration.