Value-Based Care
Understanding the 25% of Healthcare Spending Estimated to be Waste
25% of the $4.1 trillion spent on healthcare is waste. How value-based care creates a more viable future.
---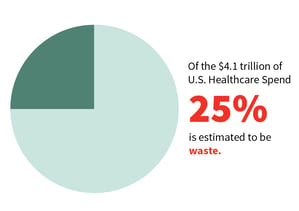 What is healthcare waste?
Healthcare waste is defined as "medical services that provide little or no benefit to the consumer, or as avoidable overspending on services that could be more efficiently delivered" (CareCentrix →).
What does healthcare waste look like?
The Journal of the American Medical Association (JAMA) published a report titled "Waste in the US Health Care System," → which identified six areas from which healthcare waste is most prevalent.
Failure of Care Delivery, such as poor adherence to clinical best practices.
Failure of Care Coordination, when a consumer's health journey → is not properly coordinated, resulting in inefficient care and more cost to the patient.
Over-treatment or Low-value Care, such as unnecessary treatments, tests, or procedures.
Pricing Failure, or unreasonably high prices for care.
Administrative Complexity, the cost needed to maintain clinical operations through administrative staff.
Fraud and Abuse, such as when a consumer is billed for a service that they did not receive.
Healthcare waste is, unfortunately, a shared experience – one more common than most realize.
Michael Gonzales, CEO of HNI Healthcare, said, "We all have, or know of someone who has, encountered inefficient care and the resulting financial strain. That's why, at HNI, we're fostering a system that breaks this cycle. We're focused on creating value for all – patients, providers, and hospitals alike."
Why we have to do more with less:

On a per person basis, U.S. health spending is about double that of similarly large and wealthy nations. Meanwhile, the U.S. has the lowest life expectancy among peer countries, according to healthsystemtracker.org. →
LEARN MORE
How can value-based care models reduce waste?
Value-based care models are reducing waste by creating value for all. →
Value-based care is focused on the entirety of the patient experience →, and targets these areas of waste to improve outcomes and create value for health systems. →
The JAMA report → said that, "while it is not realistic to expect to eliminate all waste in these categories, the evidence base to guide future interventions is growing. As value-based care continues to evolve, there is reason to believe such interventions can be coordinated and scaled to produce better care at lower cost for all U.S. residents."
Modern Healthcare → adds that, "aligning payers and providers through value-based care initiatives can go a long way toward cutting waste."
Value-based care structures are creating a future in which patient care is effective and efficient →, and dollars saved from waste can be reinvested for the good of others.
---
Hear from healthcare veterans Blain Claypool - Chief Operating Officer, and Dr. Reuben Tovar - Chief Medical Officer, of HNI Healthcare as they walk through their experience navigating value-based care, risk-based arrangements, and alternate payment models, and how they got buy-in from their hospital, providers, and colleagues.
---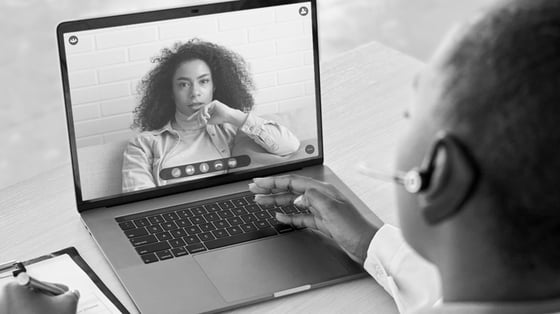 We know now the downfalls of the outdated fee-for-service healthcare model. Value-Based Care has shown to be more adaptable, innovative, value-aligned, and holistic.
---
---
Grow your knowledge
Join hundreds of other medical professionals.
Stay up-to-date with the latest value-based care news, innovation and technology.
Don't miss out!