Value-Based Care
Culture, Collaboration, and Community
How HNI's presence helped a rural Louisiana hospital become an indispensable partner of their community.
---
Accessibility of care is imperative for patients who need immediate treatment, and for the community of West Monroe, one hospital is their only hope for hours.
Thus, providing quality care and improving the patient experience, while focusing on patient throughput, was of utmost importance.
Partnering for a

better

to

morrow.
The rural Louisiana hospital first partnered with HNI Healthcare (HNI) in October of 2014 to hire, manage, train, and support the HM and ICU physicians within the hospital. This is the story of how they not only saw financial gain through a partnership with HNI, but became an indispensable aspect of their community.
At the beginning of our partnership, we implemented our discovery process - identifying patient length of stay as the hospital's primary pain point - causing financial, satisfaction, and cultural concern among physicians and patients alike.
The average length of stay at the hospital soared above the national average, and as a result capacity within the facility became increasingly limited. Critical care patients had to be turned away to seek care elsewhere. The financial strain weighed on the facility, while patients and local physicians were unhappy to have to seek care farther from their community.
Further, the pressures of a fee-for-service reimbursement model, which could not function due to dwindling capacity, caused tension within the clinical team.
What happened next was a complete cultural shift and a collective effort to create an efficient and effective system that resulted in better outcomes for the patients of their community.
---
See how value-based care continues to evolve and makes waves in the healthcare industry.
Creating a collaborative culture was paramount. We worked with our hospital partner to recruit and hire phenomenal physicians who shared an innovative and compassionate mindset. What resulted was a melting pot of physicians of various cultures, ages, and backgrounds – all united around the collegial HNI culture.
"At HNI our physicians truly care about their patients, it is not just about a dollar amount," said Kiley Keith, Program Director. "That is why people stay – because culture is ingrained in our work."
HNI's program was able to reduce one physician a day while continuing to increase the efficiency of the team. To serve the needs of the community, HNI also took on the management of the hospital's Neurology program and quickly hired a neurologist. Now, HNI's team was able to tend to local critical neurology patients that would otherwise have to travel to a different facility to seek care.
Once the team of like-minded physicians was assembled, they became a well-oiled machine – deeply ingrained in their community.
Education and execution became the pillars of the team's success. HNI-hired Medical Directors were further educated on productive leadership skills to best serve and strengthen their team. They helped to foster a supportive atmosphere in which trust is intrinsic. Without question, the team stepped up to cover for their colleagues and valued clear, honest communication. In doing so, the team implemented a daily "huddle" in which they could discuss their cases and offer potential solutions to get patients home as efficiently as possible.
VitalsMD
®
helped streamline patient care
– assisting in
effective documentation
and alerting local primary care providers of their patients' status. With a clear picture of the patient's health documented and follow-up care alerts being pushed automatically, the team was able to avoid future readmissions and exceed national length of stay benchmark expectations.
This synergy of a united team and effective documentation allowed the facility to keep patients moving through the care continuum in a timely manner. It also led to less unnecessary testing and administrative costs - lowering the amount of healthcare waste generated and creating value for all parties.
---
It is estimated that 25% of the total U.S. healthcare spend is waste. See how value-based care helps create a more viable future for our healthcare system.
Above all, fostering relationships within the community was key. Each member of the clinical team was local to the community, and therefore understood and deeply valued the trust and harmony with local primary care physicians. In fact, many of the hospitalists at the hospital are primary care physicians themselves. These physicians know that their patients will receive quality, efficient care in HNI's hands.
"The trust we have built is next-level," said Craig Menard, MD, MHSA, Regional VP of Operations. "Now, HNI is no longer a vendor for the hospital, but an indispensable partner."
Because of the trust HNI built in the community, many primary care physicians now have direct contact with the HNI team and can ensure that their patient will be admitted without further stress or complications.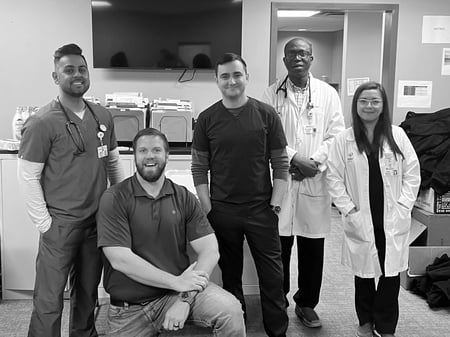 Featured left to right:

Dr. Patel, Dr. Kitchens, Dr. Latuso, Dr. Soyemi, and Dr. Morato
Eight years into our partnership, the HNI team continues to serve their valued community by providing fundamental care.
"At HNI, we cause solutions. It is who we are," said Menard. "The work we do matters, and we are greatly impacting the lives of our patients."
Now, the hospital is a true regional player, and HNI has become a partner for the facility and the community – no longer just an extension of the hospital.
See how HNI's technology, processes, and people improved length of stay (LOS) and Case Mix Index (CMI) for our hospital partners – resulting in significant savings and incremental revenue.
Learn more about the goals of value-based care and what it means to hospitals, providers, and patients.
Connect with us.
We are experts in implementing value-based care strategies. See how we can improve your program.