Value-Based Care
Life Sustaining Treatment for a Community in Need
How the HNI team in South Texas developed life sustaining dialysis treatment plans for patients in need.
---
Along the southern Texas border, there are true financial, educational, and language barriers to accessing quality healthcare. A dynamic exists in Northern Mexico where access to life sustaining hemodialysis is not available for all – only for those that have the wealth to pay up front.
Frequently, these patients come across the border in desperate need of a life sustaining therapy not available to them in their home country. Unfortunately, many of the patients with high blood pressure, diabetes, and similar ailments are not able to receive or afford vital preventative care, like dialysis, to manage their illness.
Thus, our partner hospital, Rio Grande Regional Hospital, has seen an influx of patients arriving at the doors of their emergency department with life-threatening symptoms. And as a result, these patients find themselves admitted to the hospital for seven to eight days, costing more money for both the patient and the hospital for this emergency care.
When HNI Healthcare (HNI) partnered with Rio Grande Regional Hospital, we identified an immediate need for preventative care for this population and acted to create a solution. Thanks to our culture of teamwork and compassion, alongside improved processes to boost efficiency, the hospital was able to reinvest saved healthcare resources into treating community members in need – here's how.
HNI fostered a culture of collaboration and teamwork. "Nothing can get done entirely on your own," said Marla Sandoval, Program Director and native to the community. Changing learned behaviors, such as a fee-for-service mindset, Sandoval said, can be the hardest aspect of cultivating a successful and unified team.
Sandoval says that the culture we have built within the team is one of support and collaboration. They are empowered to engage in physician-to-physician conversations and lift each other up during the difficult times.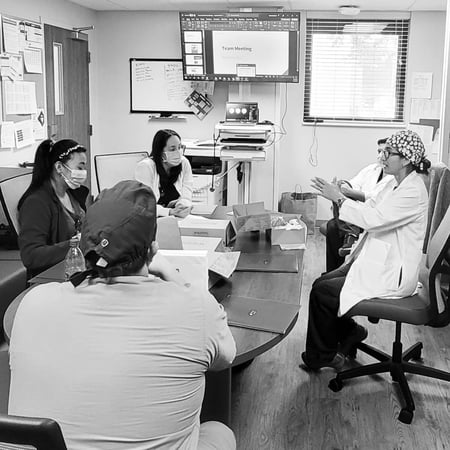 Featured left to right: Dr. Miguel Guerra, Medical Director, Dr. Ismael Cantu, and Dr. Adriana Gomez, Regional Medical Director

Efficiency is a product of their communication. The team is cohesive and unyielding in their mission to provide the best quality care to their patients. As a unified front, they have clear communication and documentation processes that allow them to save valuable healthcare resources and reinvest that time and money into community care needs.
---
See how healthcare technology like VitalsMD® aligns clinical, operations, and financial outcomes.
Reconnecting to your "Why" is key. Dr. Adriana Gomez, Regional Medical Director, said, "Before HNI, the practice of medicine in this region was focused on productivity and revenue. Now, quality is front and center, and we've been able to imprint that in this community." Dr. Gomez says that HNI's teams stand out from the healthcare industry because of their "Why" – to bring value and the best outcomes possible to their physicians, hospitals, and patients.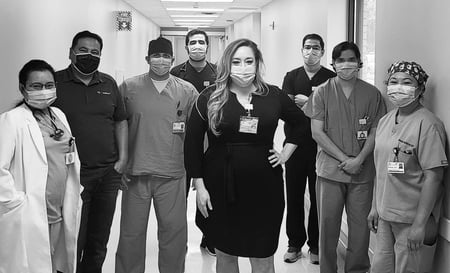 Featured left to right: Dr. Jenny Carreon, Dr. Reuben Tovar, Dr. Miguel Guerra, Medical Director, Dr. Bilal Nazif, Marla Sandoval, Program Director, Dr. Cesar Uribe, Dr. Cesar Garza, and Marian Gutierrez, NP
Now, the team adapts to treat the needs of patients in their community. They saw the need to break the cycle of emergency care for patients in need of dialysis, and created a treatment plan to provide the best outcomes for these community members. Dr. Gomez said, "The team understands that this is life and death for these patients, and we must do what we can to meet their needs. We took an oath to take care of all patients, and the work that we must do is for the greater good of this community."
The relationships formed with these patients made these care plans possible. Our HNI physicians were familiar with these patients-in-need due to their frequent emergency visits, and so were able to care for and communicate with them as though they were their primary care provider.
Working in collaboration with the nephrology department, they were able to coordinate these patients to receive dialysis treatment before their untreated symptoms brought them back to the ER.
A social worker and case management team helped to facilitate this process with the uninsured patients, ultimately admitting them to the hospital for dialysis treatment in order to get them home as soon as possible – saving patients' money while getting them the critical preventative care that they need. In addition, the team has worked with their patients to prescribe more affordable medications to ensure that their preventative treatment is continued outside of the hospital walls.
This process has helped Rio Grande Regional Hospital to standardize basic care and lower mortality from heart attacks and sepsis. "At the end of the day," said Dr. Gomez, "we're saving lives in South Texas and we've been able to accomplish the mission of HNI – to provide value to our patients and partners."
"HNI is leading the way and changing healthcare in my community," said Sandoval. "The data can speak for itself but, at the end of the day, it's the relationships that make all the difference."
Learn more about the goals of value-based care and what it means to hospitals, providers, and patients.
Connect with us.
We are experts in implementing value-based care strategies. See how we can improve your program.